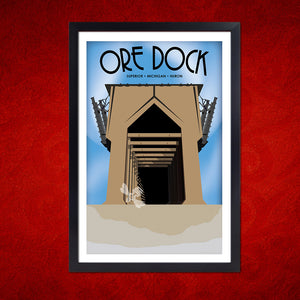 An ore dock is a large structure used for loading ore (typically from railway cars or ore jennies) onto ships which then carry the ore to steelworks or to transshipment points. Most known ore docks were constructed near iron mines on the upper Great Lakes and served the lower Great Lakes. Ore docks still in existence are typically about 60 feet wide, 80 feet high, and vary from 900 feet to 2,400 feet in length. They are commonly constructed from wood, steel, reinforced concrete, or combinations of these materials.
They are commonly used for loading bulk ore carriers with high mass, low value ore, such as iron ore, in raw or taconite form.
Poster Print
A poster print is created using a professional laser printer on heavy, cover stock paper. The quality of the print and of the paper vary. Colors are placed on the paper with dots.

Artist Print
An artist's proof is matte photographic proof produced by a professional printer. Colors are continuous and have no dots.
Prints are NOT matted or framed.
Original artwork by Jamey Penney-Ritter/Bemused Design.
Copyright watermark will not appear on your print.