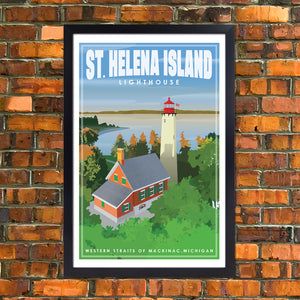 Lying two miles offshore from Michigan's Upper Peninsula and ten miles west of the world famous Mackinac Island, lies St. Helena Island. The 266 - acre uninhabited island once had a thriving community of over two hundred people. Now St. Helena only sees about 250 visitors to the lighthouse, located on the eastern end of the island, during the summer season. Keeper Thomas P. Dunn lit the lamp inside the Fresnel lens for the first time on the night of September 20, 1873, sending a sheet of red light out over Lake Michigan. 
St. Helena Island Light Station is owned and operated by the Great Lakes Lighthouse Keepers Association. 
Thanks to Blueeyes Below for the amazing reference photo.
5x7 Card with Envelope $5
2x3 Magnet $6
8x10 Artist Print $25
12x18 Poster Print $25
12x18 Artist Print $50
16x24 Artist Print $75
Poster Prints
A poster print is created using a professional laser printer on heavy, cover stock paper. The quality of the print and of the paper vary. Colors are placed on the paper with dots.
Artist Print
An artist proof is matte photographic proof produced by a professional printer. Colors are continuous and have no dots.