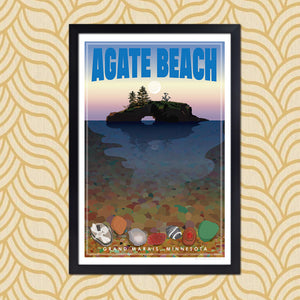 The Lake Superior agate is a type of agate stained by iron and found on the shores of Lake Superior. Its wide distribution and iron-rich bands of color reflect the gemstone's geologic history in Minnesota. In 1969 the Lake Superior agate was designated by the Minnesota Legislature as the official state gemstone.
The Lake Superior agate was selected because the agate reflects many aspects of Minnesota. It was formed during lava eruptions that occurred in Minnesota about a billion years ago. The stone's predominant red color comes from iron, a major Minnesota industrial mineral found extensively throughout the Iron Range region. Finally, the Lake Superior agate can be found in many regions of Minnesota as it was distributed by glacial movement across Minnesota 10,000 to 15,000 years ago.
Excellent agate hunting beaches can be found on Lake Superior's North Shore including Grand Marais.
Poster Print
A poster print is created using a professional laser printer on heavy, cover stock paper. The quality of the print and of the paper vary. Colors are placed on the paper with dots.

Artist Print
An artist's proof is matte photographic proof produced by a professional printer. Colors are continuous and have no dots.
Prints are NOT matted or framed.
Original artwork by Jamey Penney-Ritter/Bemused Design.
Copyright watermark will not appear on your print.