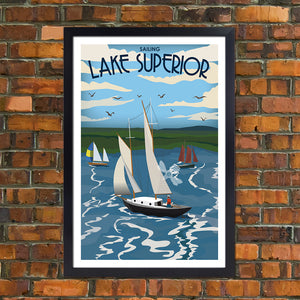 Lake Superior is the largest of all the Great Lakes – whether by surface area or by volume. It is simply vast. It alone could hold all the water of the Great Lakes PLUS two more the size of Lake Erie. It's the largest freshwater lake in the world by surface area and 3rd largest by volume. If you do the math, Superior could cover the continents of North and South America to depth of 1 ft. In mid-summer, the sun sets 35 minutes later on the west shore than on the southeast coast!
Poster Print
A poster print is created using a professional laser printer on heavy, cover stock paper. The quality of the print and of the paper vary. Colors are placed on the paper with dots.

Artist Print
An artist's proof is matte photographic proof produced by a professional printer. Colors are continuous and have no dots.
Prints are NOT matted or framed.
Original artwork by Jamey Penney-Ritter/Bemused Design.
Copyright watermark will not appear on your print.