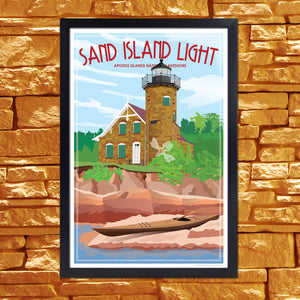 Out of all the lighthouses of the Apostle Islands National Lakeshore, I get the most requests for Sand Island. The 44-foot tower was built in 1881, it was the first of the group to be automated, in 1921.

Considered by many to be one of the most beautiful lighthouses on Lake Superior, the structure was built from sandstone quarried right at the building site. The design of the lighthouse was influenced by the Gothic style, popular during the Victorian period. The light tower begins as a square rising from the northwest corner of the dwelling, then gracefully flows into an octagon surmounted by the lantern and walkway. Carved wood trim decorates the steeply sloped gable end of the quarters. A fourth-order Fresnel lens produced a fixed white light from the top of the 44-foot tall tower.
​Sand Island ​once had an actual telephone line running to it until someone snapped it with an anchor​. ​It's the only lighthouse made out of native sandstone from the island​. I've also been told that when Lake Superior waters are low it's possible to WALK from the peninsula to the island. ​Am I going to try it? Nope.

Poster Print
A poster print is created using a professional laser printer on heavy, cover stock paper. The quality of the print and of the paper vary. Colors are placed on the paper with dots.

Artist Print
An artist's proof is matte photographic proof produced by a professional printer. Colors are continuous and have no dots.
Prints are NOT matted or framed.
Original artwork by Jamey Penney-Ritter/Bemused Design.
Copyright watermark will not appear on your print.