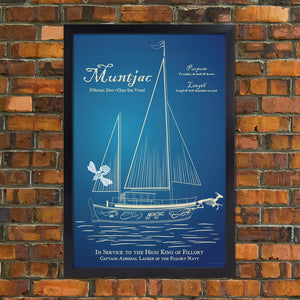 Fillory Fan Art Featuring the Magical Muntjac Flying Boat. The Muntjac is a Fillorian Deer-Class sea vessel, newly refurbished for the High King of Fillory. It is made of sentient trees and designed to explore, do battle, and deceive.
Poster Print
A poster print is created using a professional laser printer on heavy, cover stock paper. The quality of the print and of the paper vary. Colors are placed on the paper with dots.

Artist Print
An artist's proof is matte photographic proof produced by a professional printer. Colors are continuous and have no dots.
Prints are NOT matted or framed.
Original artwork by Jamey Penney-Ritter/Bemused Design.
Copyright watermark will not appear on your print.