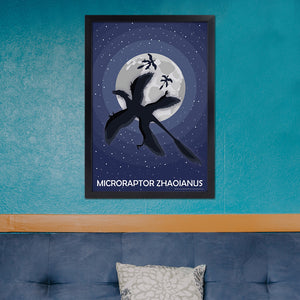 I made this one as a fun diversion from my usual designs. It was an entry into the National Park Service's Fossil Day art competition. I won an Honorable Mention.
Microraptor was a genus of small, four-winged paravian dinosaurs. Numerous well-preserved fossil specimens have been recovered from Liaoning, China. They date from the early Cretaceous Jiufotang Formation, 120 million years ago.
Poster Print
A poster print is created using a professional laser printer on heavy, cover stock paper. The quality of the print and of the paper vary. Colors are placed on the paper with dots.

Artist Print
An artist's proof is matte photographic proof produced by a professional printer. Colors are continuous and have no dots.
Prints are NOT matted or framed.
Original artwork by Jamey Penney-Ritter/Bemused Design.
Copyright watermark will not appear on your print.