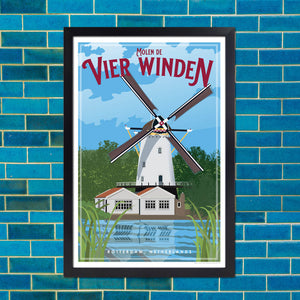 De Vier Winden is the name of a round stone grist mill in Monster in South Holland. The current flour mill was built in 1882 to replace a burned-out wooden mill. A mill at this location was mentioned as early as 1311. In the 1920s, a residential area around De Vier Winden was created, which hampered the wind, to the dismay of the miller, who complained about this to the municipality, but without success. The mill was then sold and remained in use until 1957, after which the mill was sold to the then municipality of Monster. After some restorations, the mill has been in use on a voluntary basis since 1983. The most recent restoration dates from 2007. Three pairs of millstones are present in De Vier Winden, one of which is equipped with so-called "blue" stones; the rest with artificial stones.
The tiny shop on the ground floor of the mill is charming and will delight any baking enthusiast. 
Poster Print
A poster print is created using a professional laser printer on heavy, cover stock paper. The quality of the print and of the paper vary. Colors are placed on the paper with dots.

Artist Print
An artist's proof is matte photographic proof produced by a professional printer. Colors are continuous and have no dots.
Prints are NOT matted or framed.
Original artwork by Jamey Penney-Ritter/Bemused Design.
Copyright watermark will not appear on your print.