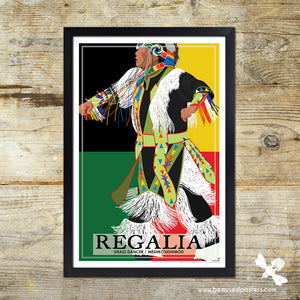 The grass dance is a fast paced dance consisting of sweeping motions and symmetry. It is generally faster than Northern Tradition or Straight style dancing, but not as fast as a Fancy dance. Like with most pow wow dances, the dancer brings his foot down to tap or step on the drum beat. Whatever the grass dancer does on one side of his body, he must also do that on the other side to create symmetry and mimic waving grass. Wide sweeping motions and tapping are also used to imitate laying down the grass. Other movements show a warrior stalking the enemy or game through tall grass. One dance steps typical of this involves one foot being firmly planted on the ground while the rest of the body moves around it. This is said to show a warrior still fighting when one foot has been staked down.
The main difference between grass dance regalia and the regalia of the other pow wow styles is that there are very few if any feathers compared to bustles of most men's dances. The regalia of the grass dancer instead consists of brightly colored fringe made of yarn or ribbon. While most dances involve making the bustle move, the grass dancer is instead intent on the swaying of the fringe. The dancer wears a roach headdress with either one to two feathers or two fluff antennae. A fully or partially beaded set consists of an "H-Harness" (two long suspenders that hang to below the knees and a belt), cuffs, headband, and side tabs. Grass dancers normally carry feather fans, mirror board, scarves, dream catchers, hoops, or dance sticks.
Poster Print
A poster print is created using a professional laser printer on heavy, cover stock paper. The quality of the print and of the paper vary. Colors are placed on the paper with dots.

Artist Print
An artist's proof is matte photographic proof produced by a professional printer. Colors are continuous and have no dots.
Prints are NOT matted or framed.
Original artwork by Jamey Penney-Ritter/Bemused Design.
Copyright watermark will not appear on your print.
Are you a school and would like a set for your students? Please email me for a  special rate.