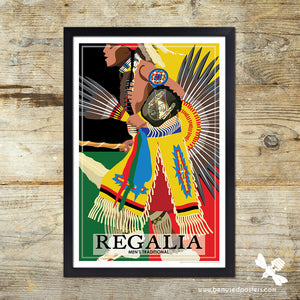 A modern pow wow is a specific type of event for Native American people to meet and dance, sing, socialize, and honor their cultures. Pow wows feature dancers of all ages wearing stunning outfits called regalia.
Northern Traditional (simply "Men's Traditional" in the North) is a dance featuring traditional regalia, authentic design and materials, single or no bustle, and movements based on traditional dances.
Poster Print
A poster print is created using a professional laser printer on heavy, cover stock paper. The quality of the print and of the paper vary. Colors are placed on the paper with dots.

Artist Print
An artist's proof is matte photographic proof produced by a professional printer. Colors are continuous and have no dots.
Prints are NOT matted or framed.
Original artwork by Jamey Penney-Ritter/Bemused Design.
Copyright watermark will not appear on your print.
Are you a school and would like a set for your students? Please email me for a  special rate.