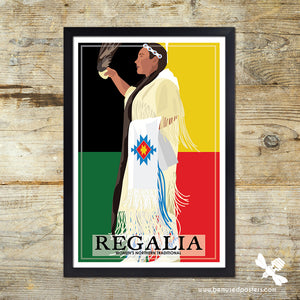 Women's Northern Traditional is the oldest style of women's dance. The outfits have become more contemporary, often using modern patterns and bead colors. Most dancers wear partially or fully beaded moccasins and beaded leggings tied just below the knee. A long buckskin skirt is normally worn, with a fully beaded buckskin yoke. The yoke has long buckskin fringe that hangs down below the knees. Usually, a breast plate will be worn over the dress and a choker may be worn around the neck. A belt is normally worn, with a saltillo/bag set attached. A beaded purse and a flat fan are carried, and a shawl is draped over one arm. Beaded hairties, and sometimes a fully beaded crown are worn.
This particular outfit is a combination of styles from different First Nations.
Poster Print
A poster print is created using a professional laser printer on heavy, cover stock paper. The quality of the print and of the paper vary. Colors are placed on the paper with dots.

Artist Print
An artist's proof is matte photographic proof produced by a professional printer. Colors are continuous and have no dots.
Prints are NOT matted or framed.
Original artwork by Jamey Penney-Ritter/Bemused Design.
Copyright watermark will not appear on your print.
Are you a school and would like a set for your students? Please email me for a  special rate.