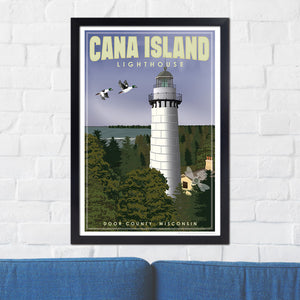 The Cana Island lighthouse is a lighthouse located just north of Baileys Harbor in Door County, Wisconsin, United States.
Currently used as an active navigational aid under the jurisdiction of the United States Coast Guard and a museum, it was added to the National Register of Historic Places in 1976, as reference #76000201. This lighthouse, along with the Baileys Harbor Range Lights, was built to replace the Baileys Harbor Lighthouse in 1869, and was first lit in 1870.
The lighthouse and keeper's quarters are open to tour by the Door County Maritime Museum.
This design also features the Common Goldeneye duck. This water fowl is a Special Concern species in Wisconsin. Both sexes have a distinctive bright yellow to pale yellow eyes. The species is an uncommon breeder in Wisconsin that nests in tree cavities. The species is threatened by the impacts of pesticides, deforestation, as well as decreased water quality.
Poster Print
A poster print is created using a professional laser printer on heavy, cover stock paper. The quality of the print and of the paper vary. Colors are placed on the paper with dots.

Artist Print
An artist's proof is matte photographic proof produced by a professional printer. Colors are continuous and have no dots.
Prints are NOT matted or framed.
Original artwork by Jamey Penney-Ritter/Bemused Design.
Copyright watermark will not appear on your print.