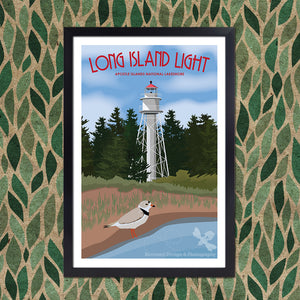 New LaPointe Light Tower, Long Island
Built 1897; Automated 1964
Still in service, not open to public
Three lighthouses have graced the narrow sandspit that separates Chequamegon Bay from the open waters of Lake Superior. Originally intended to guide ships to the old fur trade settlement of LaPointe on nearby Madeline Island, the station on Long Island took its name from that historic town.
The Chequamegon Point light, a 42-foot tower at the western tip of the island, was also erected in 1897. The LaPointe keeper had to operate both lights. Fortunately for the weary keepers, the Lighthouse Service eventually built a concrete sidewalk connecting the two towers, eliminating the need for a tiring walk through loose sand.
The wide undisturbed beaches on Long Island are not only attractive to people, but are the only places in the state where a small endangered bird has successfully nested in recent years. Piping plovers are sandcolored shorebirds that arrive on Long Island in late April to early May. They lay four eggs in nests that are shallow scrapes in the sand lined with pebbles and driftwood. The eggs hatch after about 28 days, and the downy young soon follow their parents and pluck insects and spiders from the sand. Both the eggs and young are so well camouflaged that they may go unnoticed.
Poster Print
A poster print is created using a professional laser printer on heavy, cover stock paper. The quality of the print and of the paper vary. Colors are placed on the paper with dots.

Artist Print
An artist's proof is matte photographic proof produced by a professional printer. Colors are continuous and have no dots.
Prints are NOT matted or framed.
Original artwork by Jamey Penney-Ritter/Bemused Design.
Copyright watermark will not appear on your print.