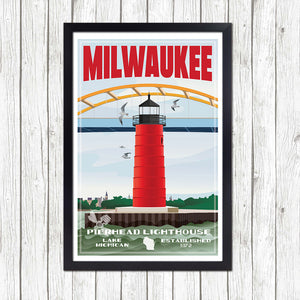 Established in 1872, the Milwaukee Pierhead Light is a sister light to the Kenosha North Pier Light. It is located where the Milwaukee River flows out into Lake Michigan, marking the mouth of the river to traveling ships. The lighthouse had a keeper until 1926, when the Milwaukee Breakwater Lighthouse was built across the harbor. Today, the Pierhead Light is solar-powered and operated automatically.

The tower is not open to the public, but the surrounding pier area is a popular spot for a lakefront walk, fishing, and photography. You can also get a great view of the Breakwater Lighthouse from the pier – two lighthouses for the price of one. (And that price is free!) The Pierhead Light is located at the end of East Erie Street - follow the street until it ends in a parking lot just before the pier.
In the background you can se the Daniel Hoan Memorial Bridge. It is a tied-arch bridge that connects Interstate 794 in downtown Milwaukee, Wisconsin, to the Lake Freeway across the Milwaukee River inlet. Originally called the Harbor Bridge, it was renamed after Daniel Hoan, one of the longest serving mayors of Milwaukee. 
Poster Print
A poster print is created using a professional laser printer on heavy, cover stock paper. The quality of the print and of the paper vary. Colors are placed on the paper with dots.

Artist Print
An artist's proof is matte photographic proof produced by a professional printer. Colors are continuous and have no dots.
Prints are NOT matted or framed.
Original artwork by Jamey Penney-Ritter/Bemused Design.
Copyright watermark will not appear on your print.