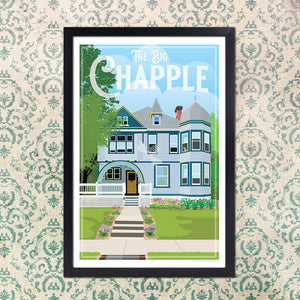 Historic Name: Edward F. and Mary Gleason House

Additional Information: Large Late Picturesque/Queen Anne style house notable for its picturesque roof line; a hip roof is pierced by a pointed roof dormer and a gabled bay window over the entry and a polygonal onion dome two story tower at the corner. Bay window at rear.
Bibliographic References: On 8 October 1887, the Ashland Weekly Press announced the wedding of Peck & Gleason and continued: "the young couple will live in a new house on Seventh Street in the Vaughn & Humbird Addition, which has just been completed.
In a list of buildings erected in 1888, which was published in the Ashland Weekly Press on 29 December 1888, page 1, the house was cited as costing $6,000. This would suggest that the house was not fully completed, to move in, until 1888. Of note, however, is that the deed between E. Vaughn MacKinnon and Edward Gleason is dated 24 March 1890, with a cost of $1,500 (44/32, #13619). A citation in the Ashland Weekly Press (23 June 1888) reads, "W.G. Webster has drawn plans for E.F. Gleason to be erected on the corner of Seventh Avenue West & Seventh Street." The 1982 Ashland survey indicates that a rendering of the house was done by architect William H. Webster.
Poster Print
A poster print is created using a professional laser printer on heavy, cover stock paper. The quality of the print and of the paper vary. Colors are placed on the paper with dots.

Artist Print
An artist's proof is matte photographic proof produced by a professional printer. Colors are continuous and have no dots.
Prints are NOT matted or framed.
Original artwork by Jamey Penney-Ritter/Bemused Design.
Copyright watermark will not appear on your print.