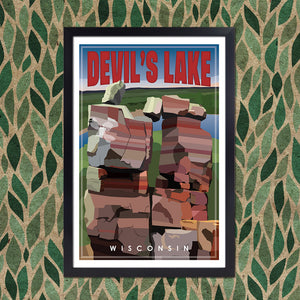 Devil's Lake State Park is located in Baraboo, Wisconsin and is Wisconsin's most popular state park with about 3 million visitors per year. The over 9,000 acre park anchors more than 27,000 acres of parkland and natural areas open to public recreation in Sauk County.
Devil's Lake was so named because it is situated in a deep chasm with no visible inlet or outlet.[3] The term, devil's lake is a misinterpretation of the Ho-Chunk name Tawacunchukdah or Da-wa-kah-char-gra, which better translates to "Sacred Lake" or "Spirit Lake." Spirit Lake is highly significant in Ho-Chunk oral history, and voices of spirits were often heard during the celebrations.
Poster Print
A poster print is created using a professional laser printer on heavy, cover stock paper. The quality of the print and of the paper vary. Colors are placed on the paper with dots.

Artist Print
An artist's proof is matte photographic proof produced by a professional printer. Colors are continuous and have no dots.
Prints are NOT matted or framed.
Original artwork by Jamey Penney-Ritter/Bemused Design.
Copyright watermark will not appear on your print.