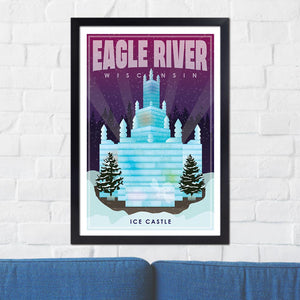 The first ice castle began as an addition to the annual "King Winter" festival in 1933. In recent years, colored floodlights have been added to illuminate the palace at night. A total of 93 floodlights were used in 1997 making for a bright and beautiful palace. 
On the weekend nearest to the New Year, the ice is scored and cut on Eagle River's Silver Lake. Then, over 2,300 blocks of 12" x 10" x 20" ice, weighing in at 60-70 pounds each, are removed from the lake. The ice blocks are trucked to the site and the construction – all done by hand – begins. Depending on the weather, the ice castle normally stands until mid-February, when the remains are taken down. Start your new tradition by planning a trip to see it.
For more information on this event, please visit the Eagle River Chamber of Commerce.
Poster Print
A poster print is created using a professional laser printer on heavy, cover stock paper. The quality of the print and of the paper vary. Colors are placed on the paper with dots.

Artist Print
An artist's proof is matte photographic proof produced by a professional printer. Colors are continuous and have no dots.
Prints are NOT matted or framed.
Original artwork by Jamey Penney-Ritter/Bemused Design.
Copyright watermark will not appear on your print.