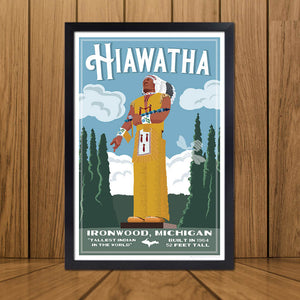 Hiawatha Statue the "Tallest Indian in the World" was built in 1964 and is made mainly of fiberglass. He is 52 feet tall and looks north to Lake Superior.
The Song of Hiawatha is an 1855 epic poem in trochaic tetrameter by Henry Wadsworth Longfellow. The epic relates the fictional adventures of an Ojibwe warrior named Hiawatha and the tragedy of his love for Minnehaha, a Dakota woman. Events in the story are set in the Pictured Rocks area on the south shore of Lake Superior. Longfellow's poem is based on oral traditions surrounding the figure of Manabozho.
Poster Print
A poster print is created using a professional laser printer on heavy, cover stock paper. The quality of the print and of the paper vary. Colors are placed on the paper with dots.

Artist Print
An artist's proof is matte photographic proof produced by a professional printer. Colors are continuous and have no dots.
Prints are NOT matted or framed.
Original artwork by Jamey Penney-Ritter/Bemused Design.
Copyright watermark will not appear on your print.