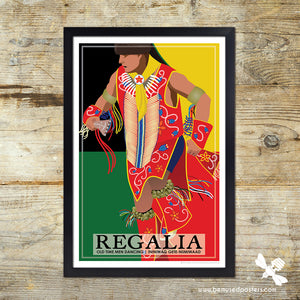 Old Time Dance, also known as Men's Straight Dance, Southern Straight Dance or Southern Traditional, is a style of Native American powwow dancing. The dance recounts the story of hunting or war parties searching for the enemy. The origin of this dance is attributed to the Southern Plains tribes in Oklahoma. The Hethushka, a prominent war society of the Poncas, is commonly attributed with the creation of the dance; however, the Pawnee, Omaha, Osage, and Kiowa tribes have sometimes been credited with creating the dance.
Dance clothes worn by the dancers presents a formal, tailored, and prestigious form. Accordingly, the slow and proud movement of the dance style matches this attire. This is a "Gentlemen's" dance, which tells the story of a hunting or war party on the trail of an animal or an enemy. The art of Old Time Dancing is in the little, sometimes unnoticed things, both in the movement and the outfit. Smoothness, precision with the song, knowledge of dance etiquette, and a powerful sense of pride mark the outstanding straight dancer.
Poster Print
A poster print is created using a professional laser printer on heavy, cover stock paper. The quality of the print and of the paper vary. Colors are placed on the paper with dots.

Artist Print
An artist's proof is matte photographic proof produced by a professional printer. Colors are continuous and have no dots.
Prints are NOT matted or framed.
Original artwork by Jamey Penney-Ritter/Bemused Design.
Copyright watermark will not appear on your print.
Are you a school and would like a set for your students? Please email me for a  special rate.