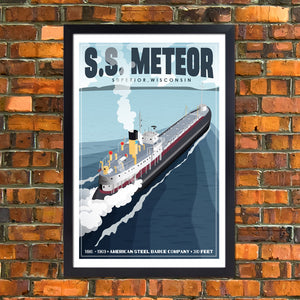 The last above-water Whaleback ship in the world! The whaleback freighter was designed by Captain Alexander McDougall and built here in Superior, Wisconsin. These ships, innovative for their time, earned the name "whaleback" for their cigar-shaped steel hulls that rode low in the water when loaded with cargo.

McDougall's Whaleback #136 has seen many changes since she was launched as the Frank Rockefeller in Superior harbor less than a mile from where she now rests. She ended her shipping career as the SS Meteor, after carrying a variety of cargoes over the years, including iron ore, grain, sand and gravel, cars, and oil.

In 1972, after sailing under three names and being refitted twice, the SS Meteor returned to Superior and is now permanently land-berthed on Barker's Island. Tour the ship from pilot house to cargo holds. The Museum also features exhibits on Great Lakes shipwrecks and the history of shipbuilding in the Twin Ports.
Available for tours in the summer. Visit the this unique museum in Superior, WI.
Poster Print
A poster print is created using a professional laser printer on heavy, cover stock paper. The quality of the print and of the paper vary. Colors are placed on the paper with dots.

Artist Print
An artist's proof is matte photographic proof produced by a professional printer. Colors are continuous and have no dots.
Prints are NOT matted or framed.
Original artwork by Jamey Penney-Ritter/Bemused Design.
Copyright watermark will not appear on your print.