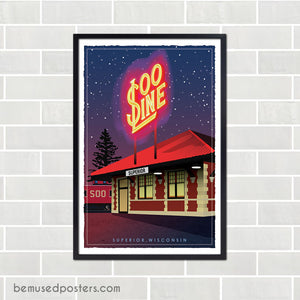 The depot was built in 1908 by the original Wisconsin Central, which the Minneapolis, St. Paul & Sault Ste. Marie (Soo Line) leased in 1909. The last passenger train to serve the depot was Soo Line's Chicago-Twin Ports Laker, which made its last run on Jan. 15, 1965.
A large Soo Line "dollar" lighted neon logo is on the roof of the depot, but it does not belong to the restaurant. After the Soo closed the depot, the sign was donated to the Lake Superior Railroad Museum in Duluth, where it was placed in storage. A few years later, the then-owner of the building inquired if he could get it back. A deal was struck: the sign would be returned to the building on indefinite loan from the museum, provided the building owner restored and maintained it in operating condition, and would light it at the museum's request. The new owner of the building is honoring that agreement and the sign will remain on the depot.
The depot is now home to Thirsty Pagan Brewery.
Poster Print
A poster print is created using a professional laser printer on heavy, cover stock paper. The quality of the print and of the paper vary. Colors are placed on the paper with dots.

Artist Print
An artist's proof is matte photographic proof produced by a professional printer. Colors are continuous and have no dots.
Prints are NOT matted or framed.
Original artwork by Jamey Penney-Ritter/Bemused Design.
Copyright watermark will not appear on your print.