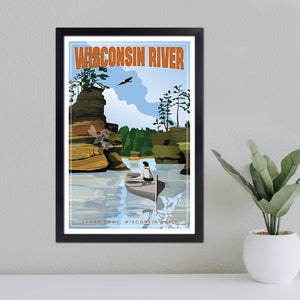 The Dells of the Wisconsin River (also called Wisconsin Dells) is a 5-mile stretch of river with gorges and stunning Cambrian sandstone rock formations. Originally referred to as the 'Dalles' (narrows) by the French, the Wisconsin Dells is home to some of the most beautiful natural sandstone sculptures in the US.
The cliffs, some over 100 feet (30 m) high, and side canyons are closed to the public to protect sensitive ecological features. The viewing of the rock formations by water is a popular tourist attraction in the area. The nearby city of Wisconsin Dells is the center of summer tourist activity, much of it in the form of the theme parks unrelated to the river features.
The Dells of the Wisconsin River is owned by the Wisconsin Department of Natural Resources. It was established as a State Natural Area in 1994.
Poster Print
A poster print is created using a professional laser printer on heavy, cover stock paper. The quality of the print and of the paper vary. Colors are placed on the paper with dots.

Artist Print
An artist's proof is matte photographic proof produced by a professional printer. Colors are continuous and have no dots.
Prints are NOT matted or framed.
Original artwork by Jamey Penney-Ritter/Bemused Design.
Copyright watermark will not appear on your print.