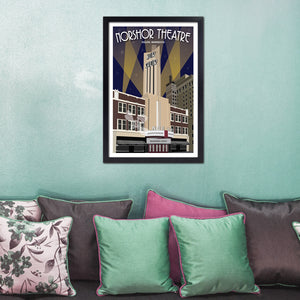 The NorShor traces its history back to 1910, when it began as the Orpheum Theatre. It was a Classical Revival-style theatre, and was a premier venue for Vaudeville performances in Duluth. In addition to Vaudeville acts and other performances, the Orpheum was one of Duluth's earliest movie theatres.
But by the 1940s, the Vaudeville era was over, and the Orpheum needed to be reinvented to stay in business and remain relevant. It was renamed the NorShor, and was remodeled in a fabulous Art Deco style. The new NorShor featured a 125-foot tall exterior tower made of porcelain. The tower contained 3,000 lights, making it visible for a long distance, as a notable feature of Duluth's skyline. The tower was subsequently removed in later years, but plans to replace it are included in the renovation plans.
The NorShor was restored, refurbished, and reopened in Feb. 2018 with the Duluth Playhouse production of MAMMA MIA!!
Poster Print
A poster print is created using a professional laser printer on heavy, cover stock paper. The quality of the print and of the paper vary. Colors are placed on the paper with dots.

Artist Print
An artist's proof is matte photographic proof produced by a professional printer. Colors are continuous and have no dots.
Prints are NOT matted or framed.
Original artwork by Jamey Penney-Ritter/Bemused Design.
Copyright watermark will not appear on your print.