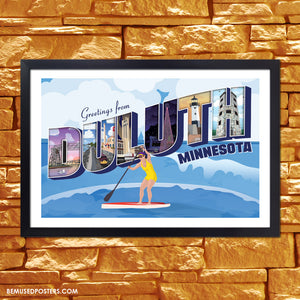 Vintage Duluth postcard design featuring vignettes of my Minnesota designs.
Vinyl Sticker $5
5x7 Card with Envelope $5
2x3 Magnet $6
8x10 Artist Print $25
12x18 Poster Print $25
12x18 Artist Print $50
16x24 Artist Print $75
Poster Prints
A poster print is created using a professional laser printer on heavy, cover stock paper. The quality of the print and of the paper vary. Colors are placed on the paper with dots.
Artist Print
An artist proof is matte photographic proof produced by a professional printer. Colors are continuous and have no dots.